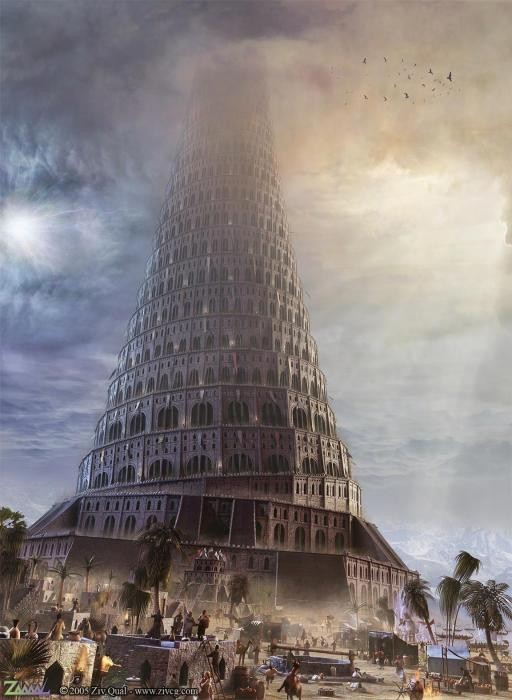 So last night, I honestly argued with two of my friends on the subject of christianity/bible until 3 a.m. During the cause of this argument/discussion, I happened on the topic of the tower of babel. The argument so far had definitely been lively and at times heated but it was held with splendid decorum.
Genesis 11:1-9
It is said that the tower of babel was so tall that it was almost reaching heaven, that God felt so threatened by it that he resolved to stop them from reaching heaven by giving them different languages. No yawa, baba God struck all the people there with different languages and they could no longer communicate with each other, hence the construction of the building stopped. Now to my question, HOW TALL COULD THE TOWER OF BABEL HAVE BEEN THAT IT WAS ALMOST REACHING HEAVEN? That would mean that this tower passed earth, entered space, passed pluto, jupiter, venus etc and was almost reaching heaven? Chai, come and see serious architecture, those builders deserve noble prizes. If you go to school, your ass should know that there is no way that building entered space, because obviously there is no gravity in space. Moreover, with a building that tall, how where the workers able to get to the top to keep on constructing? Elevator no dey, escalator no dey, space ship no dey, how where these mere men able to climb up to the top of the tower? They had no space suits, and in space they would be floating. And this is what vexes me with the bible and people who believe somuch in it, the truth is right there staring you in your freaking face but noooo you refuse to accept it because you don't want to deal with the responsiblity. After they will say controversy your to negative, you are to cynical, you are to pessimistic, you mock our religion, you criticize us tomuch. But why won't I mock your useless religion? I grow weary with every passing day because I see people living lies. People just refuse to think, I keep on repeating the same thing. 2 % of people think, 3% of people think that they think, 95% of people would rather die than think. I just do not understand it, why would people see the truth and choose to ignore it. It just does not make sense to me, and this weariness has translated into how I relate to people. Honestly, nothing human beings do can surprise me anymore, people are so scared to embrace the truth and this reality has ultimately affected how i relate to people around me this days. I have showed you guys the absurdity of the whole thing and people will still find a way to try to explain it?
There will be those who will say that maybe the "tower almost reaching heaven" should not be taken literally, to those people I say, if the tower was as tall as the largest sky scraper man has made, why has God not brought down those sky scrapers as well? So that side of the argument is not logical.
Then they wonder, why is it with all the things these guy says against religion/bible has God not struck him down with thunder. I summit to you that the reason God has not struck me down with thunder, is because I am telling the truth. It might not be the whole truth, but I know that I have at least done my part in asking questions. The bible says there was a tower, they say that the tower was almost reaching heaven. You have all seen spaceships enter space, so you all must believe that it is not made up, hence it is real. Now tell me, how is it possible that people wey no get elevators, escalators, spaceships or spacesuits were able to build a tower that was almost reaching heaven? A tower that was so tall, that it got a whole Almighty God worried, that he had to strike them with different languages? Please make una find me answer. if you can not find me answer, it's ok I have already forgiven you in advance. Hiss, Good Night abi na Good Morning jare.
P.S: I am sorry if anybody is offended with my tone in this particular blogpost, but in my defence I am writing this at 4 am, lol I could not sleep so I decided to write this as a draft and save it before I forgot about it tomorrow.